---
Rosso di Montalcino DOC
GRAPE: 100% Brunello  (Sangiovese Grosso: "Big Sangiovese")
CITY: Montalcino district Poggiolo (west side of Montalcino)
SOIL: Clay – Limestone, with a good stone skeleton
COLOR: Bright ruby red with soft brown highlights
NOSE: Intense, it recalls dry petals and fruits
TASTE: Full body, well balance, persistent with soft but firm tannins.
Tech Sheet
---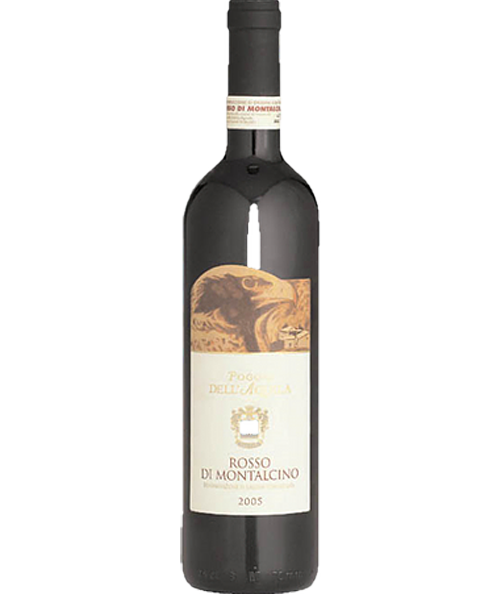 The minimum alcoholic content for a Rosso di Montalcino is 12% vol. and it requires 10 months of minimum aging. Poggio dell'Aquila Rosso di Montalcino is 100% Brunello declassified, and it is not blended with any other variety.
It is the quality of the vintage and especially the high quality standards of Renzo Cosimi (the wine maker/owner) to determinate if the Brunello is complex enough or if he prefers to declassify it and call it Rosso di Montalcino.
Brunello grape is a particular clone of Sangiovese called "Sangiovese Grosso" (Big Sangiovese) and literally Brunello means "Little dark one", so named for the deep dark color of its skin.
A perfect complement to highly seasoned first courses as well as roasted meat or steak . Best served at 60°-64° F.
From the same winery