---
SASSI PINOT GRIGIO FRIULI DOC
GRAPE: 100% Pinot Grigio
CITY: Pocenia
SOIL: Clay – Iron – limestone
COLOR: Straw-yellow with greenish highlights
NOSE: The wine is rich and flavorful; it displays an apple bouquet with reminiscent of fresh flowers
TASTE: This wine is dry, full and harmonious, keeps a good acidity with a great fruitiness
Tech Sheet
---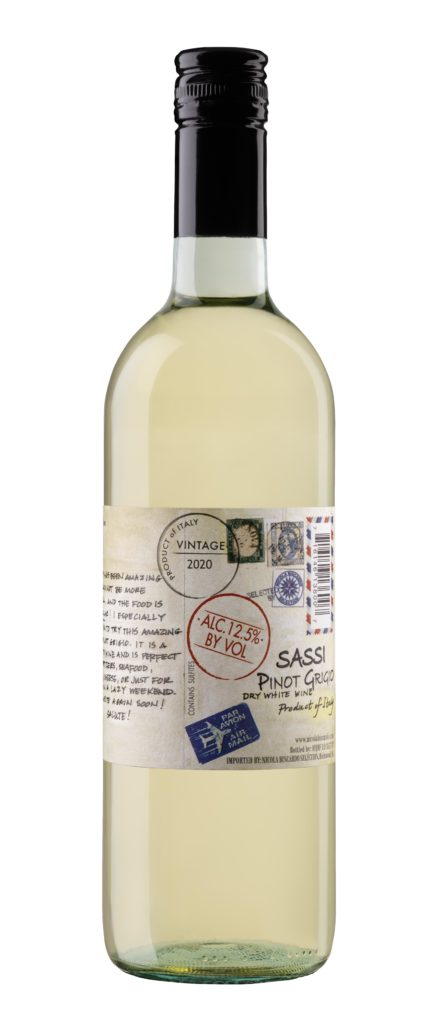 Pinot Grigio is the most popular of the Italian White wines in USA thanks to its elegant flavor and a lower alcohol content which makes the wine pleasant to drink and healthy. The easy and not pretentious style of the Italian Pinot Grigio makes this wine perfect for expert palates that wants to enjoy a casual glass of wine socializing with their friends prior to a meal at any time of the day, but also for immature wine drinkers that are gradually leaving sweet beverages to explore the multiple satisfaction that dry wines are capable to offer.
Sassi Pinot Grigio is more complex at the nose then most of the Pinot Grigio in the market, thus it entertains with an ample bouquet and intriguing aromas. At the same time it keeps a good acidity level that does not overwhelm the palate but makes it very refreshing and very approachable.
A wine to drink and relax….perfect companion to appetizer, light pasta dishes, poultry and seafood of any kind. Best served chilled, 50° F.