---
LANGHE ARNEIS DOC "MATIRÈ"
GRAPE: 100% Arneis
CITY: Vezza d'Alba
SOIL: Clay – Limestone
COLOR: Straw-yellow with greenish highlights
NOSE: Delicately scented with flower and fruit aromas
TASTE: Dry, crisp and well balanced it recalls fresh fruit and flowers with citrus hints
Tech Sheet
---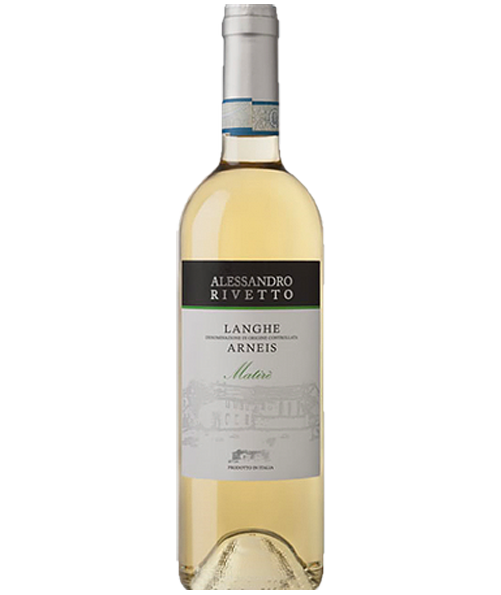 Produced with Arneis grapes from the Langhe area located on the left bank of the river Tanaro in Piedmont. The vine, trained with guyot method, are approximately 12-15 years old and yield an average of 3.9 to 4.4 tones per acre. The harvest usually takes place in early September. The grapes are hand picked and immediately taken to the winery. The "Free Run" juice, which is the finest part of the must, is collected in low-temperature vats for 24 hours to clarify. The rest is soft pressed and goes into special vats at very low temperature with the skins to macerate. This process is called "crio-maceration" and increase the extraction of perfumes and complexity from the skins. At this point the two musts are blended together and all the juice goes in temperature-controlled stainless steel vats for fermentation.
The name MATIRE' is Alessandro Rivetto special tribute to his twin daughters Matilde and Irene. He decided to dedicate them this delicate and elegant wine by merging the first three initials of each name: MAT-IRE !
Great as an aperitif, it goes well with appetizers and first courses with delicate sauces.
Served at 50°F
From the same winery