---
BARBERA D'ASTI DOCG "BRICCO SERENO"
GRAPE: 100% Barbera
CITY: Montegrosso d'Asti
SOIL: Clay – Limy – Limy/Siliceous
EXPOSURE: South/West
COLOR: Ruby-red with garnet tones depending on aging
NOSE: Rich flavor, well structured, reminding of small red wood berries, vanilla and black cherry
TASTE: Dry, full body, complex texture, with good tannins
Tech Sheet
---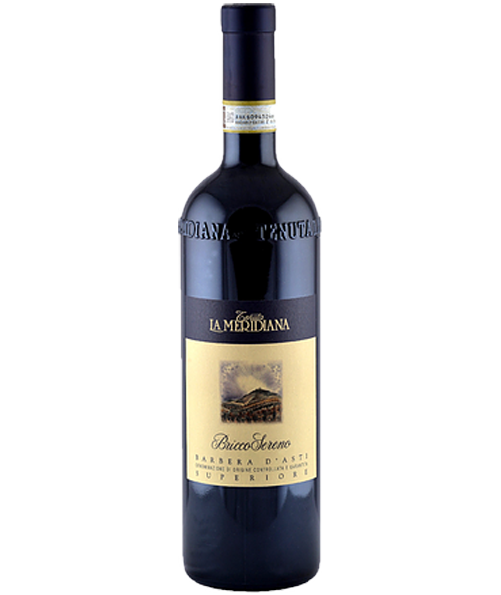 "Bricco Sereno" is probably the most representative of the THREE single vineyard Barbera d'Asti DOC that Giampiero Bianco makes in his estate Tenuta La Meridiana.
"Bricco Sereno" means the "Sunshine Hill" as this vineyard lays on the top of the best exposed hill in the property. The high elevation, the unique micro climate and Gianpiero passion, make this wine one of the best Barbera in Piedmont Region.
Giampiero still ferments all his Barberas in the traditional concrete vats which naturally stabilizes the temperature and enhances the tartaric precipitation, making the wine softer and more gentile on the palate.
After fermentation 50% of the wine is transferred into big Slovenian oak barrels (800 gallons), while the other 50% goes into small French Barriques (60 gallons), where it rests for about 24 months. The result is and incredibly complex wine that combines tradition and innovation in one single glass.
This masculine wine is good for long aging and it is a perfect companion for roast meat, game and steaks. Best served at 60°-64° F.