---
BARBERA D'ASTI DOCG "LE QUATTRO TERRE"
GRAPE: 100% Barbera
CITY: Montegrosso d'Asti
SOIL: Clay – Limestone – Sand – Tuff/Iron
COLOR: Ruby-red with purple highlights
NOSE: Delicate but intense, it expresses fresh fruit and violet flowers
TASTE: Dry, medium body with good acidity that reveals its friendly style
"This wine", Gianpiero says, "is a Textbook Wine, because it shows exactly what a real Barbera d'Asti DOCG is"
Tech Sheet
---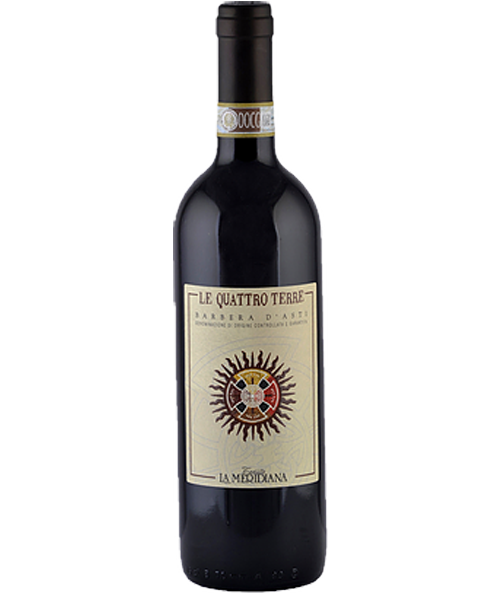 The "QUATTRO TERRE" is Gianpiero every day Barbera d'Asti DOCG. It is the only Barbera from La Meridiana that does not have a single vineyard designation on the label, instead it is simply called "LE QUATTRO TERRE" (literally "THE FOUR SOILS") because the grapes that Gianpiero uses for this wine come from the four different types of soil that he has at his Estate La Meridiana. The sun in the center of the label is split into four parts with the four colors of the soil.
"This wine", Gianpiero says, "is a Textbook Wine, because it shows exactly what a real Barbera d'Asti DOCG is. Its soul combines the character given by Sand, Clay, Limestone and Tuff/Iron."
The result is a refreshing medium to high bodied Barbera, that displays lots of fresh fruit and it is the perfect companion for an every day meal or a fun BBQ with lots of friends. Perfect as glass pour for restaurants. Best served at 65° F.