---
GRILLO SICILIA DOC "ARIDDU"
GRAPE: 100%  Grillo
CITY: Marsala
SOIL: Clay hillside
COLOR: Bright straw yellow, with greenish reflections
NOSE: Citrus blossoms and peach nuances, and some hints of passion fruit, grapefruit, and herbal sensations
TASTE: Crisp and savory, balanced and elegant
Tech Sheet
---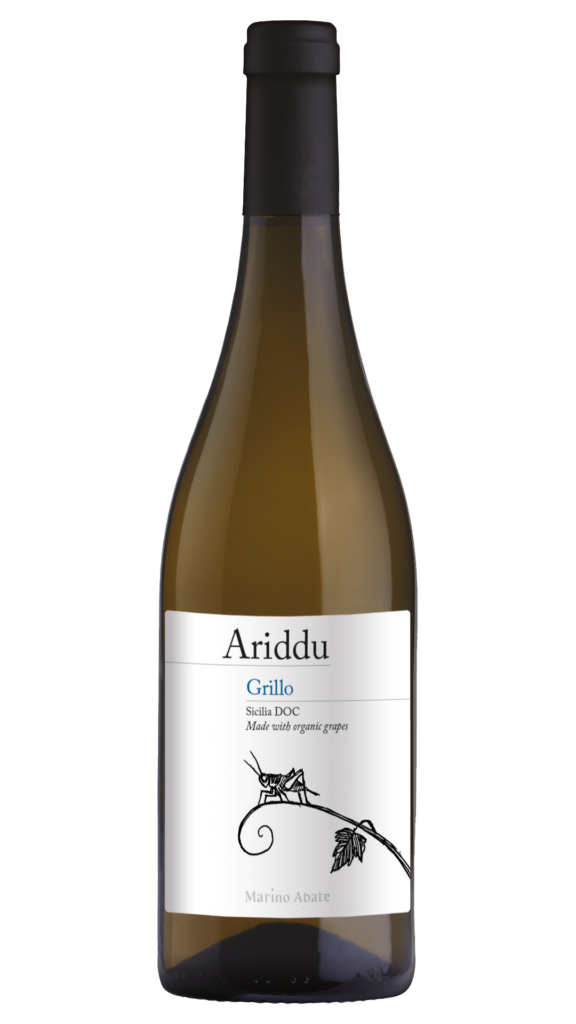 Grillo is a vigorous variety that enjoys hot and dry weather; therefore, it adapts perfectly to the Sicilian
climate. "Ariddu" means Grillo in Sicilian dialect (that in Italian is both the name of the grape and of the
cricket), and Marino Abate gave this name to this wine to reaffirm the connection with this territory.
Marino Abate winery, located in Marsala, the western corner of the Island, adopted since the beginning SUSTAINABILITY as its mantra, and now all their wines are certified "organic".
After cryomaceration at 41-46°F for 4/6 hours, the must ferments at 61-64°C for 15/20 days in steel
vats; afterwards, it matures for 4 months in steel vats.
The result is a medium body wine, delivering a pleasant crispy fruitiness balanced by savory notes,
a fun alternative to Pinot Grigio!
Food pairing is easy and offers an amazing array of possibilities: from fish to egg preparations, from
white meat and goat cheeses to pasta and risotto dishes.
Serve cold at 46.5 – 50 °F.
From the same winery