---
NERO D'AVOLA SICILIA DOC "LAPA"
GRAPE: 100% Nero d'Avola
CITY: Marsala
SOIL: Clay hillside
COLOR: Dark ruby red
NOSE: Black cherries, black plums, chocolate and tobacco, completed by some savory and herbal notes
TASTE: Fruity but dry flavors, vivid but soft tannins
Tech Sheet
---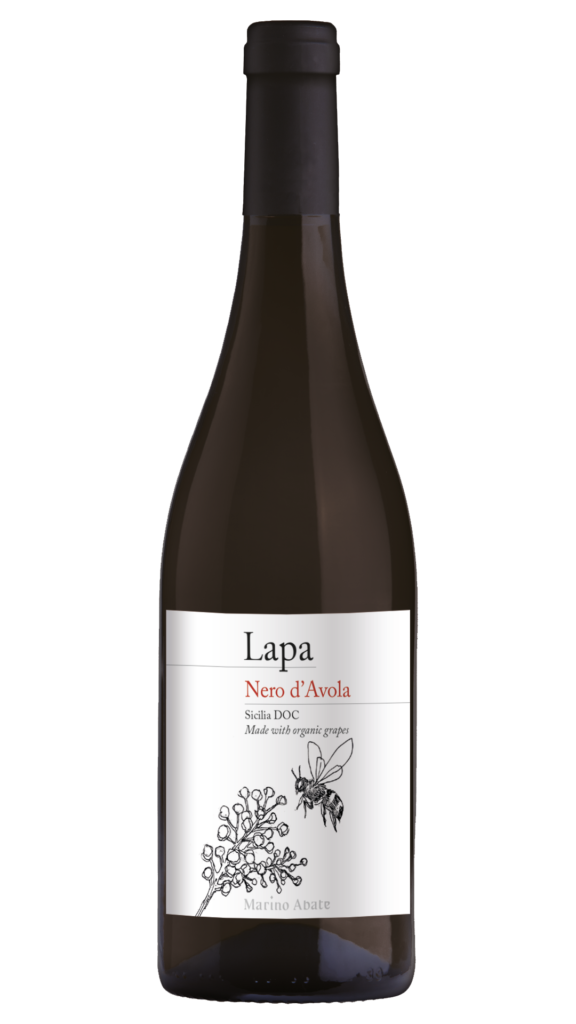 Nero d'Avola, the traditional red grape variety from Sicily, develops into a complex red wine under the
influence of warmth and Mediterranean winds. "Lapa" means "bee" in Sicilian dialect, and Marino Abate
gave this name to this wine to reaffirm the organic agriculture and sustainability practices they use, from
farming to winemaking: bees can survive only in clean and no polluted environment.
Marino Abate winery, located in Marsala, the western corner of the Island, adopted since the beginning SUSTAINABILITY as its mantra, and now all their wines are certified "organic".
After the grapes are quality-selected and picked, the berries are gently pressed, and the must fermented in stainless-steel, temperature-controlled tanks. The wine then matures in steel for 12 months and in the bottle for a minimum of 3 months.
The result is an intense, pleasantly fruity, warm, and full-bodied with smooth tannins.
Perfect companion for pasta dishes with meat sauce, meat couscous, roasted game and aged
cheeses
Serve at 61 °F.