---
Sangiovese Toscano IGT GOVERNO ALL'USO TOSCANO
GRAPE: Sangiovese 95%, Ciliegiolo 5%
CITY: Scansano
SOIL: Rich of silt
COLOR: Elegant ruby red
NOSE: Pleasant notes of red fruits (plums, blackberries and cherries) and hints of spices
TASTE: Medium body and dry, round palate, with an elegant fruity finish and round tannins.
Tech Sheet
---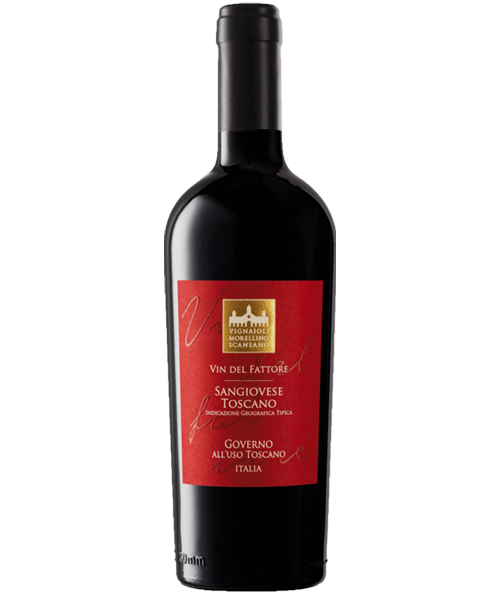 Fermentation: Sangiovese grapes are hand picked in small boxes with holes and left to wither in refrigerated cells so as to loose 15% of their weight. Sangiovese is vinified at low temperature (max 27°C) with maceration on the skins for 4-6 days, then the wine is drawn off and the fermentation is concluded without any further contact with the skins. After about 4 weeks of withering, the Ciliegiolo grapes are pressed and, once they reach full fermentation, the previously vinified Sangiovese is added. Fermentation continues until the sugars are almost exhausted; malolactic fermentation takes place naturally at the end of the primary fermentation.
Aging: in stainless steel tanks for 3 months on fine lees.
Refining: starting from May of the following year.
Food pairing: with cured meat starters, pasta dishes with meat sauce and meat main dishes.
Serving temperature:16°C